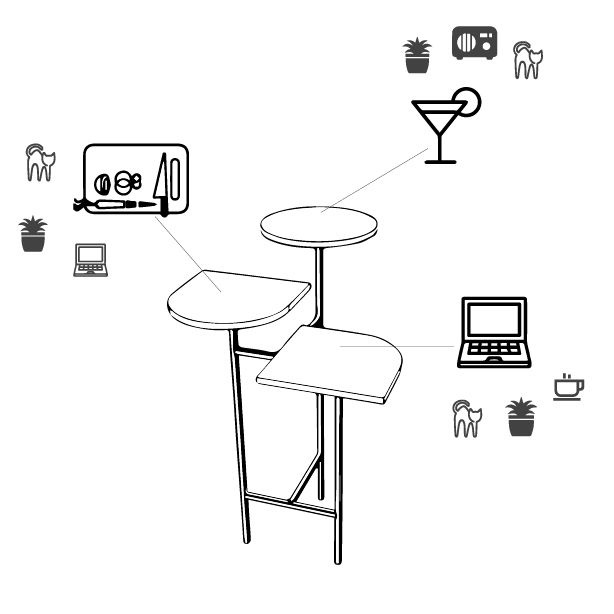 A side table that takes your mobility to new heights !
In a constantly changing world, adaptation is imperative. We jump from apartment to apartment, city to city, becoming increasingly nomadic only to leave so much behind. From this Aata is born. A small, light and elegant piece of furniture that disassembles easily for transport. This piece can work in any room from both a utility and aesthetic point of view. Like an inverted mobile the three parts are connected to balance each other out. It can serve as a desk (sitting or standing), a kitchen counter, or simply as a shelf. The design is inspired by the lunar cycle; the quarter moon is at table/desk level, the half moon is counter level and the full moon is bar level.
Dimensions : 48 3/4'' x 48 3/4'' x 44''
Une table d'appoint à la hauteur de vos envies !
Dans un monde en constante évolution, l'adaptation est impérative. Nous passons d'un appartement à l'autre, d'une ville à l'autre, devenons de plus en plus nomades pour en laisser tellement derrière nous. De là, Aata est né. Un meuble d'appoint, léger et élégant qui se décompose facilement pour le transport. Cette pièce peut fonctionner dans n'importe quelle pièce du point de vue de l'utilité que de l'esthétique. Comme un mobile inversé, les trois parties sont connectées pour être équilibrées. Il peut servir de bureau (assis ou debout), de comptoir de cuisine ou simplement d'étagère. Le design s'inspire du cycle lunaire; Le quart de lune est au niveau d'une table / bureau, la demi-lune est au niveau d'un comptoir et la pleine lune est au niveau d'un bar.
Dimensions: 28 3/4'' x 28 3/4'' x 44''